In Creatures of Castlefest we want to put the wondrous creatures, that are part of the world of Castlefest, in the spotlight. From visitor to entertainer, from exhibitor to volunteer. What moves them and which role does Castlefest play in their lives? This time: Jopie, who has visited Castlefest since the very beginning and has been working as a volunteer for several years.
When I was twelve or thirteen I already visited the Elf Fantasy Fair, which I really enjoyed. When I heard about Castlefest in 2004, I knew I had to go. I bought an old evening dress from a second-hand store, readjusted it and wore it to the first edition in 2005.
I've always thought of Castlefest as a very special festival. The focus is really on the atmosphere. You notice it is precisely that atmosphere which is important for many people, it feels like a 'home'. In those fifteen years, Castlefest has also become a 'home' for me.
The feeling of coming home is very hard to describe, and I think everyone who has attended the festival for several years now, knows what I'm talking about. It's everything together, that makes the festival what it is. All the little things and every volunteer who works so hard to build all the different elements of Castlefest. It's best described as one large mechanism that fits together perfectly, it 'clicks'. You notice this during the festival, but even during the first few days of building up. The terrain, the visitors, the decoration, the surroundings, the camping in summer and the silent disco. Or during Castlefest Winter Edition, where, as a volunteer, you're sleeping in one big tent together on camping beds with zero privacy. All those things together, make it feel like home.

Meanwhile I've been volunteering for about three or four years now, in team decoration. It feels extra special, because you can really see the festival grow from the ground up. I've actually joined Castlefest in all ways by now. I've been a shop owner, entertainer and I even painted the people who participate in the Wicker Ritual.
Eventually I figured it was time to experience Castlefest as a volunteer. When you're walking around for so long, you know people so I went to talk to the coordinator for team deco. Since I'm an artist myself, it was the most obvious choice. Luckily, the coordinator was excited about me joining!
I love volunteering while the festival is being built, this way you help creating the festival, and you actually get to enjoy it as well. Afterwards, it's almost a ritual to break it down again. That's what I find special: you build it, you live it and you break it down again.
One of my own projects are the sign posts. All wooden arrows are designed and painted by me. It's taken me a long while and every year new ones are made again. My goal is to add a little humour to them as well. Next to that I repair a lot of work. Last year, the mushrooms didn't survive the storm so I repainted them. Every year we have a few big projects we all work on together as a team.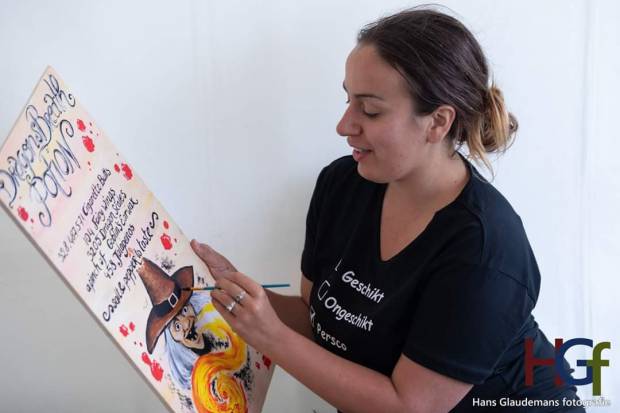 I try to show my artistry in my costumes as well. I love to go all out for it. I do try to make things myself as much as I can, or readjust existing designs. The dress I'm wearing right now is from a Vintage Kilo sale. It's super warm and cosy, so it's perfect.
The costume is inspired by Yule. I stuffed it in my suitcase and put everything on this morning from the camping bed. I've even decorated King Holly in my costume. It's a bit of a collection of things I still had laying around. The wig is recycled from an earlier costume, and the crown I made right before I left.
Not all my costumes are around a theme. A lot has come through in all these years. From Disney to pagan headdresses. Castlefest inspires me, but also things I experience or find. Last year, for example, I found a red ballgown of which I made a 'Red Queen' costume.
During the Winter Edition I wear costumes that are comfortable. During Castlefest in August I have one day in which I go all out with my costume, that's when I like having my picture taken as well. But I also want to hang out with friends, visit the market and dance. This all, makes coming home at Castlefest complete.


Article and photo by: Dewi van Zeggelaar
Want to know more about Jopie's art? Check her own page for some beautiful artworks.