In Creatures of Castlefest we want to put the wondrous creatures, that are part of the world of Castlefest, in the spotlight. From visitor to entertainer, from exhibitor to volunteer. What moves them and which role does Castlefest play in their lives? This week: Sander, barber and grandfather to the first offline tinder baby.
Once, I went to Rijswijk with a good friend of mine. That's where I saw a flyer of Castlefest. My friend already knew Castlefest and strongly recommended me to go. So that's what I did. I went for a day to Castlefest. I liked it so much, that the next year, my friend and I went to try out the Castlefest Campsite. I have stayed, I believe, three times on the campsite opposite the road and last year was my third time on the 'new' campsite. Geez, six years of camping at Castlefest already.
It started out with just me and my friend. During one of the first years at the campsite, we started talking to a group over breakfast. It was fun and this group eventually evolved to what our great group of friends is today.
In a similar way, I ended up at House of Wax. While I was watching, one of their group asked if I could lend a hand. I helped to open the show by carrying one of the characters offstage. It was a kind of Berserker-role. Just like my outfit today!
How I became the first Offline tinder grandpa? Let's start at the beginning.
We always arrive very early at the Castlefest campsite, my group and I. We just have so much stuff. We started off with like four people, but now our group has over thirty people in it.
In 2016, we again arrived well on time at the gates. Mark, the boss of Castlefest, came to tell us we were very very early. But hey, someone has to be first. And we just love to be that someone. As we were so early, they assigned us a place to put down our stuff until the campsite was ready for visitors. This spot was right across the offline tinder desk, so my son and I decided to join in and got a number.
On Saturday of that weekend, he came to me: 'Dad, I met a girl, but she is not here tomorrow'. So I didn't meet her that weekend. My son talked to her on Sunday and kept in touch.
The Friday after Castlefest, she came to visit. Three weeks later, they moved in together at my place. A year later, in August, my first grandchild was born. Luckily, it wasn't during Castlefest! Just before last Christmas, they bought their own house and last September I got to welcome a second grandchild. And so, the Castlefest family keeps expanding.
2017 was a special year for me. During that time, I was already a barber. I brought my barber chair to Castlefest. Right between the tents at Castlefest, I shaved and trimmed the beards of my friends. Mark came to me and asked if I would be interested in a spot at the Lifestyle Area as a barber. I said yes and the year after, you could find me at my own stand. It was so much fun! That's also the year that I met my half-brother:
In July, just before being a barber at Castlefest, I got a message in English of someone who had a couple of pictures of my father. I thanked the stranger for them, to which he replied that he was probably my half-brother. We started talking and that's when I decided to get him to Castlefest, so we could meet.
At the Castlefest Friday, it was time. We met each other and there was no trace of a doubt we have the same father. It was quite an emotional experience. Next to the statue of Twoia, is where we took our first picture together. Since then, Twoia and her spot are extra special for me.
On Saturday, my half-brother took his seat in my barber chair before returning to Germany.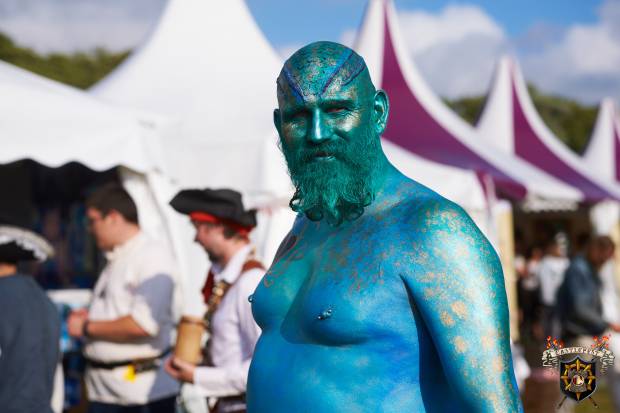 Nowadays, you'll often find me in the bodypaint area at Castlefest. I have always admired bodypaint, it's a true art form! But I only really got into contact with it during the European Bodypaint Festival. That took place right after Castlefest. I got into a conversation with a couple of models and one thing leads to another. The next Castlefest I was a bodypaint model for one day. But now, you'll find me all painted up for three days in a row! So, that's another thing I got to discover through Vana.
My big group of friends started here, I met my half-brother here, Castlefest brought me grandchildren. The festival has a big role in how my family has taken shape in the past years. It's, like everybody says, like coming home.

Article and photo by Dewi Zeggelaar
Photo bodypaint by Maarten de Boer